Ēriks Ešenvalds
Stephen Layton's collaboration with the Latvian composer, Ēriks Ešenvalds, began somewhat fortuitously in 2007 as a result of two independent events.  First, Gabriel Jackson – a composer/collaborator, and whose music Layton was to record the following year (Not no faceless Angel - Hyperion Records, 2009) – suggested to Layton that he might be interested in Ešenvalds' music.  Second, during a visit to Riga (Latvia), where Layton was to conduct the Latvian Radio Choir, Ešenvalds' name was mentioned once again, this time by Uģis Prauliņš (a fellow Latvian composer and recent collaborator of Layton's) during a visit both made to the classical music-publishing house, Musica Baltica.  Layton returned to the UK carrying a stack of new music scores and CDs, including Passion and Resurrection - the work that would mark the beginning of his on-going, creative collaboration with Ēriks Ešenvalds.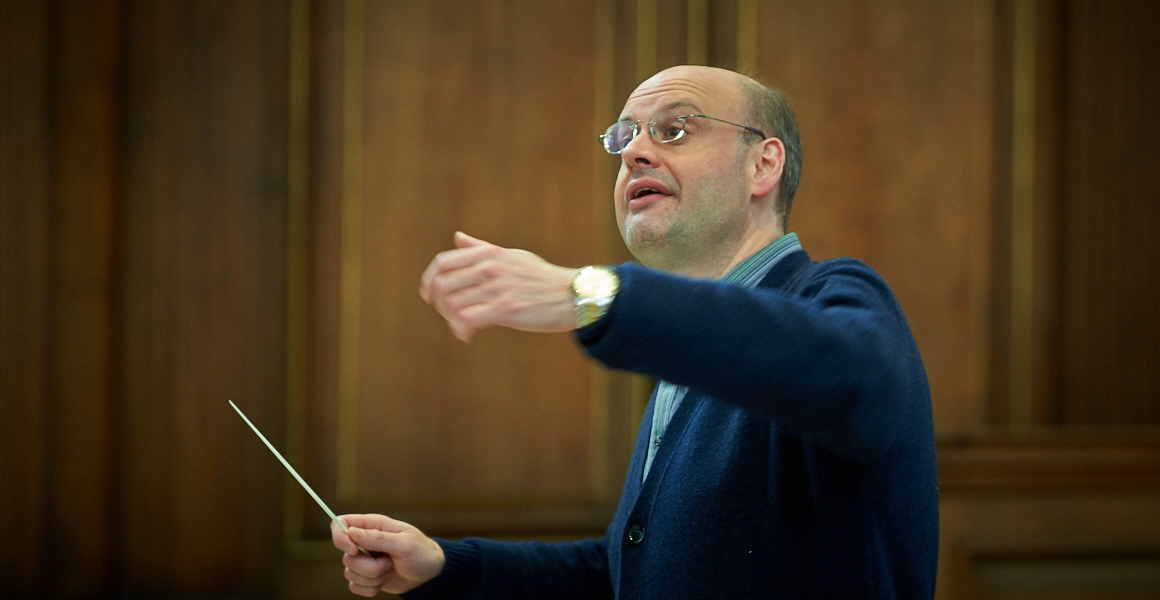 Back in the UK, Layton recalls that on hearing the soprano soloist soar in with the ethereal "Raboni, Raboni" in the final movement of a recording of Passion and Resurrection by the Latvian State Choir (2005) he knew he wanted to introduce this "wonderful" music to a wider audience.  A series of UK concerts and a recording with his chamber choir Polyphony and the Britten Sinfonia followed in 2010.  In 2011, Passion and Resurrection & other choral works (Hyperion Records) was released to high critical acclaim.
Hyperion Recording
(March 2011)
Polyphony & the Britten Sinfonia
Carolyn Sampson
Produced by Adrian Peacock
Engineered by David Hinitt
UK Concerts
Passion and Resurrection: The Music of Ēriks Ešenvalds
Polyphony, Trinity College Chapel
8 April 2010
Passion and Resurrection: The Music of Ēriks Ešenvalds
Polyphony, Theatre Royal Norwich
9 April 2010
Selected Reviews
"Within seconds I knew I was going to adore this CD and the music of Eriks Ešenvalds … This is a performance of considerable impact, not least in the second movement when the electrifying choral cries of 'Crucify' dissolve so magically into calm, plainchant-inspired music above which Carolyn Sampson floats with angelic luminosity … If the music wasn't so utterly gorgeous, I would happily devote several hundred words to praising Stephen Layton for these totally absorbing performances. Along with Polyphony, he set the benchmark long ago, and while this is as good as anything they've ever committed to disc, the real praise here has to be reserved for Eriks Ešenvalds, whose music clearly warrants a great deal more exposure."  International Record Review
"Ešenvalds responds to the purpose of the words he sets, occupying similar choral territory to the likes of Whitacre and Shchedrin, character rather than ego dominating … Ešenvalds favours the upper voices, giving them luminous, floating melodies against backgrounds that set them in shimmering relief or throw mysterious, penumbrous cloaks around them. Polyphony typically balances beauty of timbre with precise articulation and empathy with the texts." BBC Music Magazine
"Ešenvalds displays an impressive command and variety of musical language … Soloist, choir and strings are first-rate." Choir & Organ
Ešenvalds in Cambridge (2011 - 2013)
Layton describes Ešenvalds as a "compositional chameleon" with the ability to absorb the sounds he hears around him and weave them into his music.  From 2011 to 2013 Ešenvalds held the position of Fellow Commoner in the Creative Arts at Trinity College, Cambridge.  Spending 2 years based in Cambridge, a city with one of the highest densities of chapels and chapel choirs in the world, it is no surprise that he found himself incorporating the sounds of the English choral tradition into his music.  Psalm 67 (2012) opens with the chanting of a baritone soloist and subsequent response of the choir, possibly a reaction to his surroundings in the form of the Versicles that he would have heard at the beginning of the Choral Evensongs that take place across Cambridge every day.  This ability to internalise the sounds of a particular musical tradition and yet retain a unique voice is a strong hallmark of Ešenvalds' music.  
Psalm 67 received its premiere with Polyphony in the Concertgebouw, Amsterdam on 10 November 2012, and shortly afterwards received its UK premiere with The Choir of Trinity College Cambridge (18 November 2012).  Most recently, it has been performed by the Latvian State Choir, under Layton, as part of the 16th International Sacred Music Festival 2013, in Riga, Latvia (24 August 2013).
Ēriks Ešenvalds: Psalm 67
State Choir Latvia, 16th International Sacred Music Festival 2013, Riga (24 August 2013)
During his time at Cambridge, Ešenvalds was commisoned by Trinity College to write a piece - Trinity Te Deum - to be performed at the installation of the new Master of the College - Sir Gregory Winter (2 October 2012).
In composing the Trinity Te Deum, he worked closely with the choir and organ scholars at Trinity College so that together they could get the best out of the Chapel space and instrument.  It is this aspect of Ešenvalds' compositional 'sensitivity' that appeals greatly to Layton: "Ešenvalds' is a smart composer, and takes pride in writing music that is tailored to the musician tasked with realising it".  Similarly, when writing music for a particular group or choir, Ešenvalds' will spend some time with the singers.  Perhaps it is for this reason that Layton has been able to perform Ešenvalds with his professional choir Polyphony, his amateur group, the Holst Singers and his student choir at Trinity College, all to critical acclaim.
Ešenvalds and the City of London Sinfonia
Ešenvalds' ability to write music that is tailored to both a group's ability and musical heritage made him a clear choice when Stephen Layton and Matthew Swann (CEO of City of London Sinfonia) were looking to commission a piece for their Voices Now initiative (2013).  This project brought together a range of vocalists - beatboxers, children, city workers and community groups – in a celebration of community diversity.  Inspired by the work of Gareth Malone, who also ran a workshop during the festival, the idea was to share music between these superficially different groups of people.  The commission was to write a piece that allowed all these different groups and styles to perform together whilst retaining their individual identity.  After visiting all of the groups to research their unique sounds, the result was City Songs (2013), which was premiered in the Roundhouse, Camden (23 June 2013).  "Eriks had the right imagination ... and the experience", says Layton.
The Collaborative Process and a New Ešenvalds Recording: Northern Lights
A true collaboration is one where creativity is stimulated in both parties.  In the same way that Layton has been able to offer Ešenvalds opportunities that allow him to exercise his creative voice in new and exciting ways, the music that Ešenvalds writes also challenges and stimulates Layton when he comes to realise it in performance and recordings.  
Ešenvalds was present for the recording sessions of the upcoming CD, Northern Lights, which took place in January 2014 at Trinity College Chapel and Ely Cathedral.
Describing recent recording sessions, Layton noted how - even in the elevated pressure of these relatively short sessions - the pair of them found room to be creative: "There is never one way of doing things" Layton reports, " ... things were constantly changing and being re-invented as we went along".
Both Layton and Ešenvalds describe music making as a journey.  For Ešenvalds, this is in the context of the composition of the piece: "a journey, whose twisting roads persistently, but convincingly, bring me to the final sounds of the score".  For Layton as a conductor, however, the journey he makes is in the performance.  In the rehearsal he prepares for the journey, pointing out landmarks to his singers and exploring how they might negotiate them.  Layton describes how in the music of some composers (like Bach) there are landmark moments that singers and conductor alike look forward to: moments of pure ecstasy that are the heart of music making and can only be attained in the context of the journey.  For Layton, moments such as these are to be found in plenty in Ešenvalds' music, and he looks forwards to them every time he makes the 'journey' of the piece.  
Discovering such moments in Ešenvalds' music has characterised Layton's continued exploration of this composer.
O Salutaris Hostia
(2009), which features on the new recording (and Layton notes as
"significant ... with two soprano soloists weaving in the heights above the sustained choral parts"
) is a piece he particularly looks forward to conducting every time.  He also points us towards the feeling of euphoria and climax at the setting of the text "God shall give us his blessing" in Ešenvalds' setting of
Psalm 67
(2012), which is also included in the upcoming Ešenvalds CD.
"These moments are what make the journey of Eriks' music something special", 
Layton states.
The enjoyment Layton derives from conducting Ešenvalds' music is not something he alone experiences.  His singers report that they enjoy singing it and that "it seems to have been written for [their] voice - it just lies perfectly!"  
Ēriks Ešenvalds: O Salutaris Hostia
The Choir of Trinity College Cambridge, Cologne Concert: Germany Tour (July 2013)
Soprano soloists: Rachel Ambrose Evans and Hannah Partridge 
Layton believes that some of this appeal derives from the fact that Ešenvalds' himself is a singer and that, as a result, his music is anything but pianistic; rather, every vocal line in the texture has a melody and shape of its own.
This new disc was released on the Hyperion Records label in February 2015.
Recording-session photos at Trinity College Chapel and Ely Cathedral (January 2014)